Yale Egyptian Collections
Various museums and library collections at Yale University serve as the repositories for over 5,000 objects from Egypt and Nubia, ranging in date from remote prehistory through late antiquity.
These collections serve as resources for classroom instruction, and provide numerous subjects for research projects. The following links provide information about individual collections: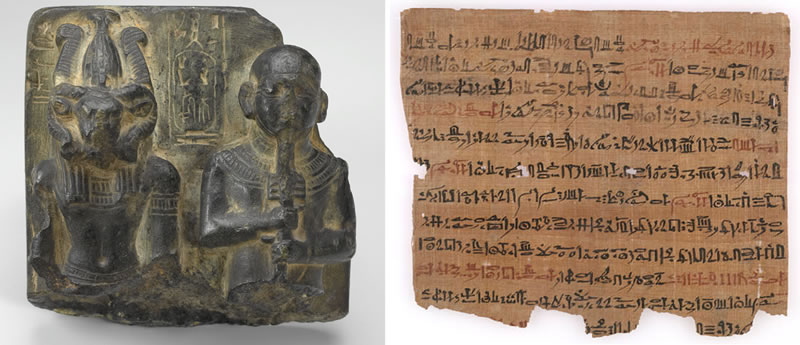 Although most are no longer on display, the Yale University Art Gallery has a small but significant collection of ancient Egyptian material. Some objects have been the subjects of both student and faculty publications, and a group of inscribed Middle Kingdom coffin panels form an important resource for teaching the ancient Egyptian Coffin Texts.
Yale Peabody Museum of Natural History
The Yale Peabody Museum has an extensive collection of Egyptian and Nubian material, some on display and much more housed in storage and study rooms at the Yale West Campus. The collection includes important material deriving from Yale expeditions during the Nubian Salvage Campaign of the 1960s. Work on publications of much of the material is continuing, and the Peabody collection form the basis for numerous student papers and publications, and is an unparalleled teaching resource.
Beinecke Rare Book and Manuscript Library
The Beinecke Rare Book and Manuscript Collection preserves an important collection of ancient Egyptian papyri dating from the Pharaonic Period through the Byzantine and Islamic Periods. The collection is particularly rich in Coptic Egyptian material.
Medical Historical Library and Collection, E. C. Streeter Collection of Weights and Measures
Important for understanding the bases of both local and international economies of the ancient world, the Streeter Collection includes a small number of ancient Egyptian weights and measures.
"Few objects are more remote from the interests of most classical students, to say nothing of educated readers in general, than magical amulets." 
So Campbell Bonner in 1950 began his catalog of Graeco-Egyptian magical gems, still one of the fundamental works in the field. In the decades since Bonner wrote his study, the magical gems have become an increasingly larger part of examinations of magic and religion in the context of the Hellenistic and Roman worlds, and the peripheries thereof. They are now much less remote from the interests of many scholars and now receiving much deserved attention from specialists in diverse fields, reflecting as they do a highly visible synthesis of elements from the traditional religions of Egypt, Greece, Rome, as well Judaism and Christianity. In March, 2005, James H. Schwartz generously donated his collection of Graeco-Egyptian magical amulets, primarily gems and metal objects — 74 objects total — to the Yale Babylonian Collection. This collection ( descriptions and transcriptions of some of Schwartz's personal collection appeared in Frances M. Schwartz and James H. Schwartz, "Engraved Gems in the Collection of the American Numismatic Society: 1. Ancient Magical Amulets," in Museum Notes of the American Numismatic Society 24 [1979]: 149-197 ) provides an excellent sampling of most of the major types of the corpus, and serves as a valuable study and teaching collection.
The Natacha Rambova Archive, Yale University
For more information about Natacha Rambova collection please contact john.darnell@yale.edu