Church at John the Little
The main church at John the Little was (partially) excavated in the 1990s by the Michigan-based Scriptorium team. In the decade since, the structure has suffered considerably from exposure to the elements and from human vandalism. In an effort to document these threatened remains, the YMAP team has conducted surveys of the church and its surrounding structures, with the goal of producing a detailed building plan (in progress).

The configuration of the church — with its strong inner buttresses and its lack of a return aisle and intermediate columns at the western end — is not paralleled in Coptic ecclesiastical architecture, and as a result, it is quite difficult to date.1 One interesting feature of the church is a subterranean chamber located under the nave. This room dates much earlier than the church and, in fact, resembles certain early fifth-century cells found at Kellia.2 Perhaps sometime around the seventh century, it was incorporated into the foundation structure of the church. The present church was later renovated to its current layout sometime later, during the medieval period.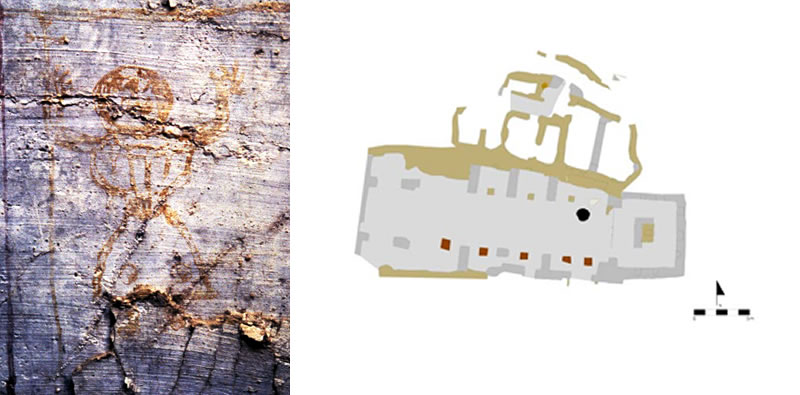 In the underground chamber, the original excavators discovered a simple wall painting of a monk identified by an accompanying inscription as "John". It is not certain whether this painted figure represents John the Little. There were, in fact, multiple monks named John associated with the desert of Scetis. However, evidence from medieval literary sources suggests that the bodily relics of John the Little were posthumously deposited in the church at the Monastery of St. John the Little at its rededication in the first decade of the ninth century, and it is not unlikely that the location had been marked as a place of veneration even earlier than this.
Notes
1. Bishop Samuil and Peter Grossmann, "Researches in the Laura of John Kolobos (Wâdî Natrûn)," in Ägypten und Nubien in spätantiker und christlicher Zeit: Akten des 6. Internationalen Koptologenkongresses, Münster 20.–26. Juli 1996 (Wiesbaden: Reichert, 1999), 360–1.
2. Samuil and Grossmann, "Researches," 361; P. Corboud, "L'oratoire et les niches-oratoires: Les lieux de la priere," in Le site monastique copte des Kellia: Sources historiques et explorations archéologiques, ed. P. Bridel (Actes du Colloque de Genève, 13 au 15 août 1984; Geneva: Mission suisse d'archéologie copte de l'Université de Genève, 1986), 88, fig. 2; G. Desœudres, "L'architecture des ermitages et des sanctuaries," in Les Kellia: Ermitages coptes en Basse Égypte (Genève: Musèe d'art et d'histoire de Genève, 1989), 33-55.